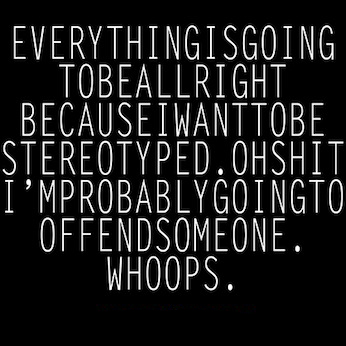 …EVERYTHINGISGOINGTOBEALLRIGHT
BECAUSEIWANTTOBESTEREOTYPED.
OHSHITI'MPROBABLYGOINGTO
OFFENDSOMEONE.WHOOPS….
[::::download::::]
(1hr18min/320MP3/189MB/©2015)
Genre: Punk / Hip Hop / Grebo / Anti-Establishment-Techno

I've been feeling a bit feisty lately.
The news. The violence. The racism. The classism. The cops. The prisons. The drug war. The debt. The election cycle. The fear. The dread. The heat. The drought. The fires. The debt. The time. The pain. The sad. The growth. The death. The love. The loss. The guns. The disbelief. The distractions. The music.
While the opening track of this mix dates back to 1982, the overarching themes of the mix have been kicking around for much longer. With the current climate of the world, I've been itching to toss together a more loose mix of genres, showcasing some of that pent up energies within me that keep me motivated to continually kick the can of ideas down the road.
This is the soundtrack of my past and my present.
Maybe it'll stoke your fire too…
[click button to show track listing]
xoxox
-Kingoa
Questions? Email: goa[at]goaconstrictor[dot]com
No added psugars.
No added psalts.
100% free range, cage free, organic Psychedelic.
Available at a Psychedelicatessen near you.
( Subscribe to the FABULOUS! Radio podcast…
)
( Follow me on the SoundCloud…
)
( Send me music with the Dropbox…
)
( Donate to my hosting fees with the DreamHost…
)
( Like me on Facebook…
)