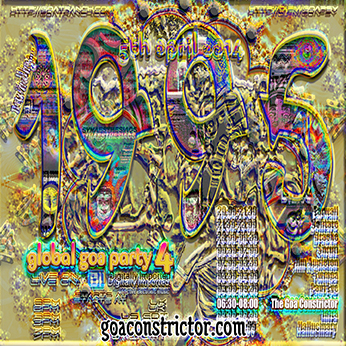 …630am-800am – Global Goa Party 1995…
[::::download::::]
(1hr30min/320MP3/217MB/©2014)
Genre: Psychedelic Goa Trance

My set from the Global Goa Party 4 – 1995 Internet radio broadcast.
It was broadcasted originally on April 5th as part of an event called Global Goa Party (no relation).
The other performers of the night were:
Earwall (USA) – [20:00-21:30]
Solitare (Canada) – [21:30-23:00]
Draeke (Italy) – [23:00-00:30]
Shruti (Brazil) – [00:30-02:00]
Jim Appleton (UK) – [02:00-03:30]
Twinpa (Germany) – [03:30-05:00]
Paul Eye (Finland) – [05:00-06:30]
The Goa Constrictor (USA) – [06:30-08:00]
Infra (Sweden) – [08:00-09:30]
Hallucinary (UK) – [09:30-11:00]
The party took place in theoretical 1995, so all tracks had to be available in order to play it. I dug up some lovelies, classics, and few special treats that might forever be stuck in your head now.
Enjoy 1995!
[click button to show track listing]
xoxox
-Kingoa
Questions? Email: goa[at]goaconstrictor[dot]com
No added psugars.
No added psalts.
100% free range, cage free, organic Psychedelic.
Available at a Psychedelicatessen near you.
( Subscribe to the FABULOUS! Radio podcast…
)
( Follow me on the SoundCloud…
)
( Send me music with the Dropbox…
)
( Donate to my hosting fees with the DreamHost…
)
( Like me on Facebook…
)