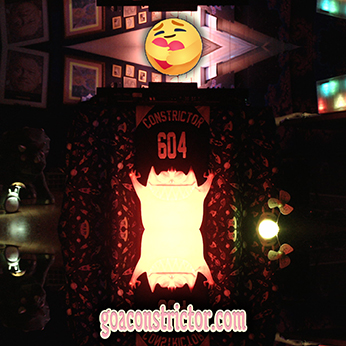 …Cares React – A Global Suomisaundi COVID Event…
(1hr00min/320MP3/147MB/©2020)
Genre: Sick Suomi Sylphedelic!
Direct Download/Stream: goaconstrictor-cares.mp3
Third Party Stream: Hearthis / Mixcloud / Soundcloud
Video Stream: https://youtu.be/ez6jcshNEMM
Well this was an unexpected and lovely thing to be part of!




About one-week before writing this here post you are reading, the kind folks of Random Records got in touch and asked me to play a set at the Global Suomisaundi Online Gathering (a three day event streamed on Twitch). The chances of me getting an opportunity to play at an IRL festival with a lineup like this would be… remote; however, thanks to technology, I can now say I've played an event with James Reipas, Pavel Svimba, O.O.K., and so so so many more! Just look at that line-up!

When playing a bar/club night with two or three other DJs, it's not too difficult to find a unique angle and sound for your self. When playing a three-day event, things get a bit more challenging, especially when everyone is playing from a specific subgenre such as Suomi. Throw on top of that the challenges of new gear (insert long story about travel, centering oneself, establishing and rekindling friendships, dancing, buying new gear, it arriving at the beginning of quarantine, and how I'm still watching tutorials and discovering new tools n functionality of the setup) and I was gifted the opportunity to have a challenge to work towards within a short time frame throughout the week after work.

I started diving deep into my history with Suomi, loaded up a bunch of music onto a USB drive, and went on a journey to piece together a set from old to new, featuring music I've not played in a bunch of sets already. I'd like to think I was successful…mostly. While I've played with my new controller a bunch, there is still a lot to learn and twice during the set were moments when the playing track jumped to an entirely different place mid-playback. Due to this, I wasn't able to play the final track I had been wanting to play and, while people had asked if I had recorded the set, I just couldn't bring myself to upload that version of things. So we have this.

The morning after, when the event was over, I just turned on the controller and played the set one more time. I considered adding in more tracks and giving the set a more full journey, maybe doubling the length or so, but chose to keep it simple and at the one-hour mark. This is essentially the set people heard and it should be documented in this form (with the bonus track at the end I had to cut from the live performance!); I can always make a longer mix in the future.

I tried to touch on a variety of tempos and sounds, as well as a full spread of artists and labels. The final product is a solid hour of how I mix Suomi and the energies I think it encapsulates. With all of that rambling and stuff said, I hope you enjoy this experience shared across the globe!!! This was a blast and I'm super thankful I was able to participate with such an event!

Much love!


[click button to show track listing]
xoxox
-Goa
Questions? Email: goa[at]goaconstrictor[dot]com
No added psugars.
No added psalts.
100% free range, cage free, organic Psychedelic.
Available at a Psychedelicatessen near you.