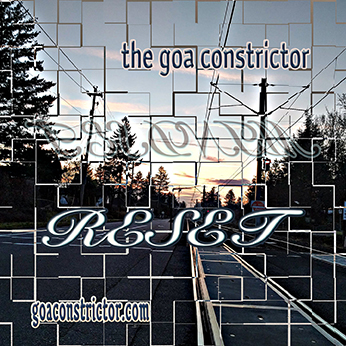 …reset…
(1hr25min/320MP3/208.2MB/©2018)
Genre: Upbeat Full-On Day Time Goa Trance to Reset your Mindset

Download/Stream Audio: goaconstrictor-reset.mp3
Soundcloud: soundcloud.com/goaconstrictor/reset
Mixcloud: mixcloud.com/goaconstrictor/the-goa-constrictor-reset
Hearthis: hearthis.at/goaconstrictor/goaconstrictor-reset
…and we reset…
Each and every year, we are afforded hundreds of opportunities to fall asleep and dream of what's to come. Then—between those dreams—in our waking hours, we get to experience things unimaginable to others only a few short decades ago. If one isn't careful, one might find oneself overloaded with options and full of flight from fervent fears and fraught fallacies of freedom and formulaic fun…
From here on out, we mostly keep bringing up the pace and increasing our heart rates.
We swirl around with some pads, breaks, acid, and… balloons.
There are things old, things new, things borrowed, and things… red?
With that, here's part two of our two-part journey into our reset.
Exhale slowly.
Start anew.
…
[click button to show track listing]
xoxox
-Goa
Questions? Email: goa[at]goaconstrictor[dot]com
No added psugars.
No added psalts.
100% free range, cage free, organic Psychedelic.
Available at a Psychedelicatessen near you.
( Subscribe to the FABULOUS! Radio podcast…
)
( Follow me on the SoundCloud…
)
( Send me music with the Dropbox…
)
( Donate to my hosting fees with the DreamHost…
)
( Like me on Facebook…
)