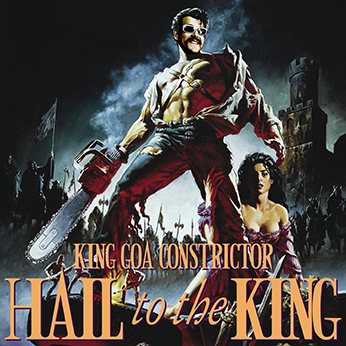 …HAIL TO THE KING…
[::::download::::]
(3hr27min/VariableMP3/412MB/©2013)
Genre: Psychedelic Trance

Like Aragorn in Lord of the Rings, a true King knows when he should stay hidden and be a regular person, and when he should stand tall and claim his throne as the King and lead his people to glory. After taking a two-year break, it is time for me to rise again and claim my rightful throne as the King; King Goa Constrictor.
It's been over two years since I have made a proper psychedelic trance mix and now it's time for me to unleash the glory and defend my title of King.
Every now and then I come across someone else on the Internet trying to claim to be "the goa constrictor" and this simply will not fly. I am The Goa Constrictor. I am your Shaman Goa Constrictor. I am the King Goa Constrictor. You other goa constrictors should really just stop pretending.
Anyway, so here is this mix. A three-hour-thirty-minute long journey through the world of the psychedelic. We start things off with a nice gentle groove before we explode into full power psychedelic madness and chaos. Then shit gets bassy, glitched out, and krunked before crashing through some retro glory and then finally calming down and ending with the panty moistener of the summer.
So go get yourself a drop of the psychedelic, turn on your mood lighting, and settle in for the night.
Hail to the King because shit's gonna get psychedelic.
[click button to show track listing]
xoxox
-Kingoa
Questions? Email: goa[at]goaconstrictor[dot]com
No added psugars.
No added psalts.
100% free range, cage free, organic Psychedelic.
Available at a Psychedelicatessen near you.
( Subscribe to the FABULOUS! Radio podcast…
)
( Follow me on the SoundCloud…
)
( Send me music with the Dropbox…
)
( Donate to my hosting fees with the DreamHost…
)
( Like me on Facebook…
)