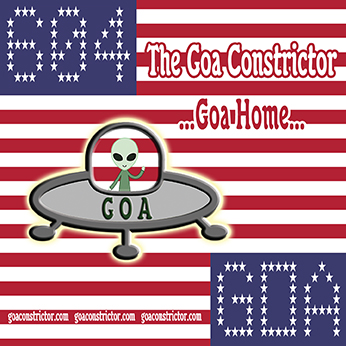 …GOA HOME…
[::::download::::]
(1hr58min/320MP3/285.7MB/©2017)
Genre: Home is where the Goa Trance is

Goa Trance is more than just a genre of music. Goa, like hiphop, is a way of viewing and interacting with life. Bringing together sci-fi movies and spiritual mysticism. Blade Runner, The Matrix, and Contact shape the world just as much as the truth that we are all star stuff, built of the same matter, and if you see the elves on the other side, you know what I'm talking about. Fractals, wires, blinky lights, and sacred geometry.
This deep level of ongoing in-jokes, clever wordplay, science stuff, and meta hilarity through cover art and design has made collecting Goa records the most comic booky geekdom that I have in my life. And it's hella fun!
We are all just spiritual beings, in physical bodies. I've seen things you've never seen. Picture a circle, on one end is sanity, and on the other end of the circle, close to insanity but not insanity, is unsanity. Leptons are z-particles. We're in bat county. I am your guardian angel but Mars needs women; don't worry, things hardly ever fuck up around here. I've never seen anyone move that fast… sounds like some spiritual antiseptic, eh?
See, regardless of what you do in life, it all applies. Pay attention for the moments of unsanity and learn to spot when you should be slinking up the world with some slower wizard-esque jams and when you need to get that Doof level acid on. Look for all of the different gods and aliens, because—somehow—they are all true, even when contradicting each other. It all exists, because none of it exists. But the belief, of the stupidly crazy and not real, creates realness. As that's how magic and faith work.
Goa has led me to different ways of thinking, as well as experiencing the world and those interpretations of those interactions within, in a wildly different way and realm than those of not. But life is chaos. A beautiful and perfectly aligned chaos. Which, when combined with Happiness through Nihilism… since we are all doomed and meaningless, if nothing ultimately matters, maybe it's best to not worry about that which has even less meaning that I. If it is all a hat trick, use Goa as a die in your pocket that is rolled every time you come to a choice–the D&D of life—and it's working out okay for me.
I'm a genuine true believer of the Goa and because I believe… the Goa looks after me…
Unless that all sounds weird and unhinged…
In which case this was all just another story…
Anyway, this mix is essentially the sunrise Summer Solstice set I played at the beginning of summer at a fun event called Psychedelic Buttstuff. I had tried to record it live but I fucked up the record settings and it was essentially unlistenable. I've thought about that set a lot throughout the summer while in airports or backseats of cars, so after unpacking from the Eclipse journey, I revisited some tracks and had a moment of pause.
2017 has been a bloody intense year for so many people. There is a lot of tense energy out there, but within that is the most pure strength and compassion that I've ever felt around me. Good people are doing good things and while the short term can feel extremely disheartening; the long term is going to be okay.
We need to push out those on-edge feelings though. This set might help you out with that.
Take a breath and go with Goa… back to home.
I hope you enjoy the journey…
…
[<– click for track listing]
xoxox
-Goa
Questions? Email: goa[at]goaconstrictor[dot]com
No added psugars.
No added psalts.
100% free range, cage free, organic Psychedelic.
Available at a Psychedelicatessen near you.
( Subscribe to the FABULOUS! Radio podcast…
)
( Follow me on the SoundCloud…
)
( Send me music with the Dropbox…
)
( Donate to my hosting fees with the DreamHost…
)
( Like me on Facebook…
)