ALWAYS THE SCAPEGOAT, NEVER THE ESCAPE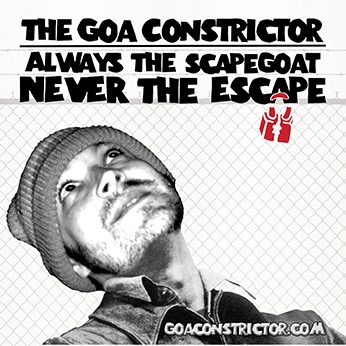 …ALWAYS THE SCAPEGOAT, NEVER THE ESCAPE…
[::::download::::]
(79min/VariableMP3/115MB/©2010)
Genre: Psychedelic Techno / Trance
The winter months are filled with long dark nights and short wet days. People often find themselves lost in their heads and creating realities out of delusions. This mix is a journey for your mind to experience the lows as well as the rebirthings into clarity.
I released this mix with an accompanying story that was shared in real time on my Facebook wall, but that was a one-time thing. The mix works well as a standalone, so feel free to journey down the path of The Scapegoat so that you don't need to become one yourself.
Happy solstice and stay well!
[click button to show track listing]
xoxox
-A'damn
Questions? Email: goa[at]goaconstrictor[dot]com
No added psugars.
No added psalts.
100% free range, cage free, organic Psychedelic.
Available at a Psychedelicatessen near you.
( Subscribe to the FABULOUS! Radio podcast…
)
( Follow me on the SoundCloud…
)
( Send me music with the Dropbox…
)
( Donate to my hosting fees with the DreamHost…
)
( Like me on Facebook…
)