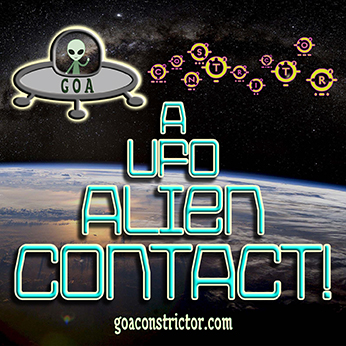 …A UFO ALIEN CONTACT!…
[::::download::::]
(1hr40min/320MP3/242.8MB/©2016)
Genre: Psychedelic UFO Alien Contact Goa Trance

Goa Trance and aliens are about as perfect of a combination as one could ever muster. They dance symbiotically through science and pseudoscience, the cosmic unknown always teasing the fringe curiously, some understanding of the joke and others believing in it.
I spent well over a decade hosting radio shows and even more time making a multitude of mixes for the listening (dis)pleasure of those whom would want to go on a journey with me. When I was approached this past spring to put together a radio show for Space Toilet Radio, I was kind of stumped. I wanted to create a journey but I was somewhat out of ideas on themes. I had done so many already. Then it hit me like a the UFO at Roswell.
Taking inspiration from a tag team set I played at **GOA PARTY 4** many years back, every track in this mix references those ancient astronomer ancestors who have been coming to Earth to advance our civilization since the beginning of time… (or have they?!)…
While I was specifically asked to keep this pre-2000, I admit that I have pushed that guideline a bit. There are a few tracks that reach into the 2000s included in this mix, but the overall heart is classic Goa, which means that the overall heart is that these flying saucers do not fly, they oscillate between dimensions carrying illegal aliens with blue auras using rays and mind control devices coming down to take your friends away. Or maybe not. I guess we'll find out some other day…
[click button to show track listing]
xoxox
-Goa
Questions? Email: goa[at]goaconstrictor[dot]com
No added psugars.
No added psalts.
100% free range, cage free, organic Psychedelic.
Available at a Psychedelicatessen near you.
( Subscribe to the FABULOUS! Radio podcast…
)
( Follow me on the SoundCloud…
)
( Send me music with the Dropbox…
)
( Donate to my hosting fees with the DreamHost…
)
( Like me on Facebook…
)